When I was turning twenty-one I asked my Dad for a sewing machine. He bought me a wicked little Brother that I ignored for a couple of years before I really got into sewing.
Five years on and the machine is still going (not
strong
, exactly – there are always some mysteriously skipped stitches – but it's still going). My decision to get a new machine wasn't purely based on it's performance issues; I'm sure a service would have sorted it out. My growing skill set meant that I wanted more than the little Brother could give. So I decided to upgrade. One evening I stopped in at the studio of my local Spotlight. My words to the sales lady were: 'I'm not looking to buy today, but I think I want a new sewing machine'.
Ha ha ha.
She lauded the
Brother NS30
and I was so impressed by all its features (though I bet I'll never use all seventy stitches!) that I ended up ordering one that night.
And
it was on sale – fifty per cent off!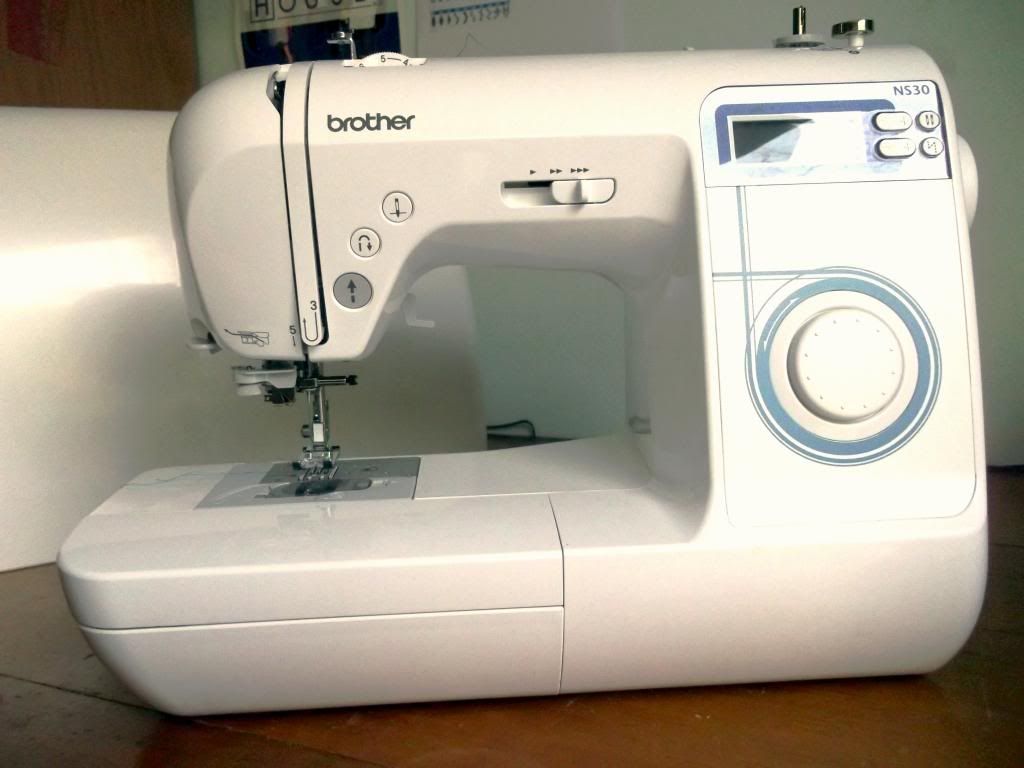 I had to wait a week for my order to come in, but the second I got it home and threaded I was in love. It's such an easy machine to use. If you want, you don't even have to use a foot pedal: there's a start/stop button on the machine. All you have to do is align the fabric under the foot and it's ready to go. Mind you, I haven't NOT used the pedal to sew. Somehow it seems wrong to me to just touch a button. The only thing I will whinge about is the screw in the middle of the needle plate, but that's pretty minor and doesn't really interfere with the seam allowance guide lines that much. Some of the best features are: automatic back stitching; a decorative stitch featuring hearts (cute!!); and the ease of adjusting stitch length and width.
And, my god, the buttonholes! I never made a buttonhole with my old little Brother, mostly because I was sure it was hard. The NS30
does it for me.
So easy. All I have to do is place the button into the foot attachment, let the machine gauge the width, select the type of buttonhole I want, and put the pedal to the metal. I'm pretty sure even Pat could handle that!
It's so easy, in fact, that I am going to make Colette's Ceylon. The sixteen buttons no longer freak me out. Of course, I'll take out the puffy sleeve cap. GirlMaverick does not do shoulder accentuation.